Standard Barcode Labels Software creates a different variety of linear and 2d barcodes in different shapes and sizes for different businesses and organizations. Application empowers you to generate customized standard barcodes in barcode settings as well as barcode designing view mode. Software provides the facility to save designed standard barcode images in JPEG, TIFF, Bitmap, WMF, EXIF, and many other image file formats.
Standard Barcode Maker Program is integrated with a large collection of drawing tools like text, signature, picture, barcode, shapes, watermark, etc. that enables the user to give an awesome look to their customized barcode labels. Software has an inbuilt batch processing feature that allows the user to create a bulk amount of standard barcode labels with several text and values by generating a new series or importing the series from an excel file or a text file. Software provides the facility to print personalized standard barcode labels in either manual mode or pre define label stock mode with the help of an advanced print setting feature.
Follow the below steps to generate barcode fonts using Barcode Label Maker Software - Standard Edition
Step 1: Make the Standard Barcode Font in Quick Barcode Mode
Generate a standard barcode using MSI Plessey Font in the barcode settings mode as shown in the below window screen.
Barcode Settings: Modify the value of bar height, density, barcode footer, barcode value, barcode header, align footer, and align header.
You can also add checksum, show checksum, show barcode value in top, hide barcode header, hide barcode value, and hide barcode footer.
Batch Processing Series: Select the enable batch processing option to create a large number of MSI Plessey barcodes with the dissimilar header, footer, and barcode values.
You can implement the batch processing feature through two methods, by import file mode or by using created list.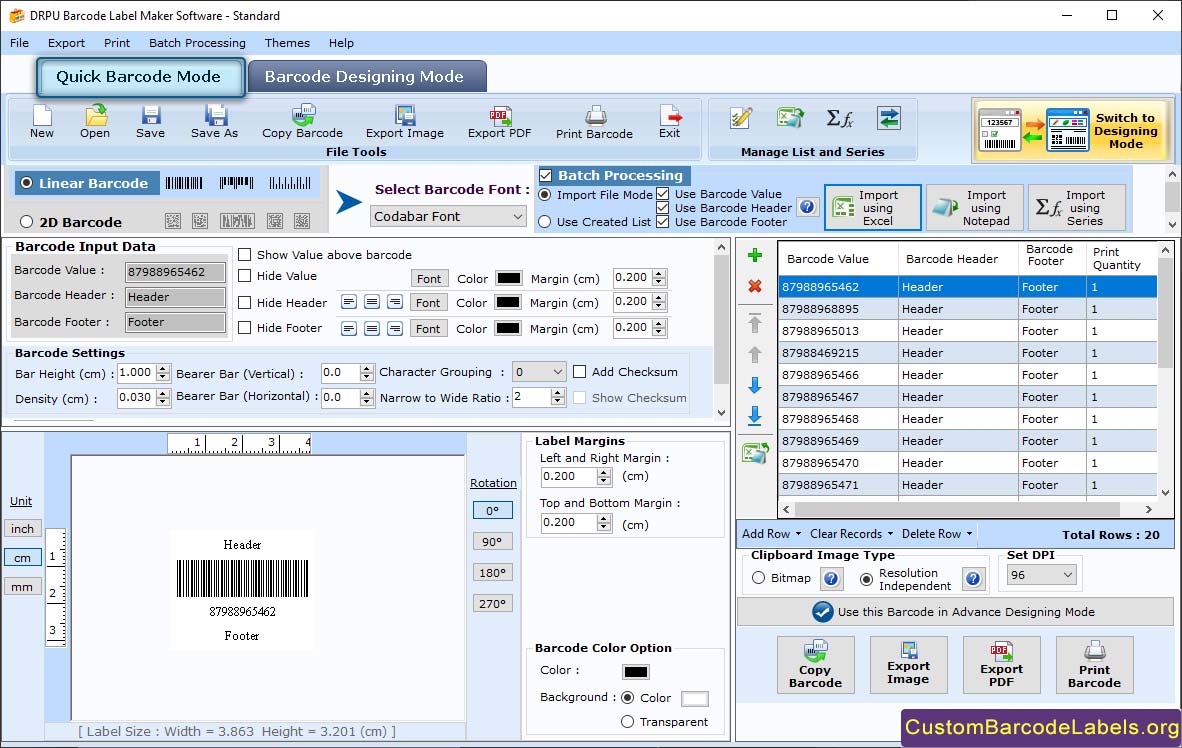 Step 2: Change the Label Properties of Standard Barcode Label
Adjust the several barcode settings such as color, font, and image settings as per the necessity.
Adjust the value of bearer bar, narrow to wide ratio, character grouping, value margin, header margin, footer margin, etc.
Adjust the font (font family, font size, and font style) of barcode header, barcode footer, and barcode value.
Adjust the color of barcode value, barcode, barcode header, barcode footer, and barcode background.
Image Settings: Adjust the value of image DPI as well as orientation and select the bitmap or resolution independent metafile image type.
Step 3: Generate Batch Processing List in Barcode Designing Mode
Click on the select series option after enabling the batch processing feature to create bulk standard barcodes.
Select the create series icon and tick the sequential series checkbox. Here, you can enter prefix value, suffix value, and range.
Instead of sequential series, you can also generate constant values or random series as per your choice.
Manage your created sequential series (update, create, delete, import, etc) by clicking on the batch processing series icon.