Greeting Card Designing Software facilitates you to express your feelings towards your family, friends, and relatives by creating stunning greeting cards. Application can design amazing greeting cards for various events like New Year, Halloween, Christmas, Easter, Diwali, Valentine's Day, etc. Software provides different designing tools (such as clipart, verse, image, watermark, barcode, text, signature, etc.) that enable you to customize your greeting cards. Program is integrated with a Send Mail option that allows you to send your designed greeting to different email addresses.
Greeting Card Maker Application helps you to make your greeting cards more pleasant by providing a large variety of different backgrounds, styles, and shapes. Software has a lock and unlock option that gives you more control over your text, images, shapes, or other objects while creating greeting cards. Software provides you the facility to print your multiple designed greeting cards on a single page with the help of an inbuilt print setting option. Greeting Card Generating Tool supports all the major Windows OS versions including 11, 10, 8, 7, XP, Vista, etc.
Follow the below steps to make customized greeting cards using DRPU Greeting Card Maker Software
Step 1: Design a New Greeting Card by using Wizard option
Make a new label format by start designing using templates, design greeting card using wizard, or design greeting card using blank format.
Give a specific label name, and adjust the label size. Click on get size from printer option for using predefined label size.
Select the fold type (half fold, postcard, or quarter fold), and choose a specific label shape, rounded rectangle, ellipse, rectangle, or CD/DVD.
Customize the label background by specifying a solid color, gradient (start color, end color, and angle), image, or style.
Enter the several invitation card details including greeting title, message, venue, table number, date, time, etc, and click Ok.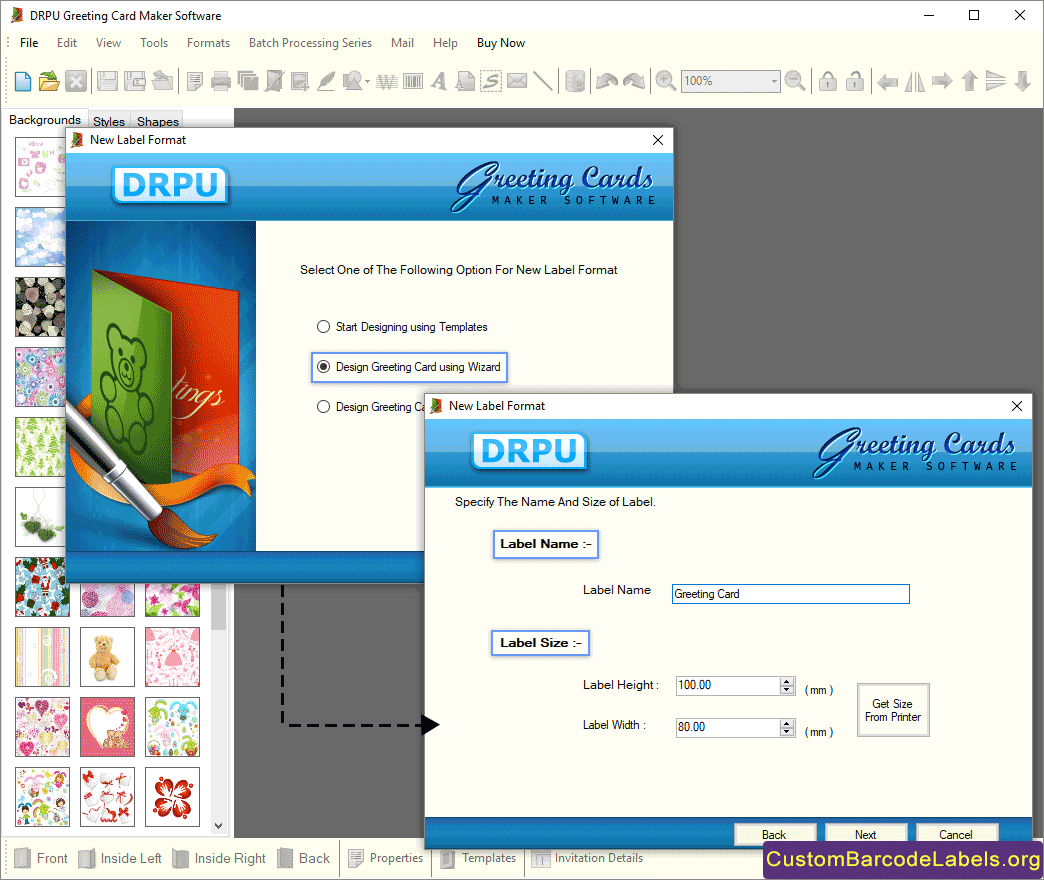 Step 2: Change the Style Properties of the Greeting Card
Make your greeting card more stylish by adding different styles, shapes, and backgrounds.
Select the inserted style, and change various style properties including color effects, border effects, and others.
Color Effects: Give a unique color, gradient, or pattern to the style. You can also fill an image color to the style.
Border Effect: Click on Show Border option to apply a border on the style. Change the transparency and rotation angle of the style.
Others: Add a shadow effect on the style by enabling the show shadow option and then change the offset x, offset y, and shadow color.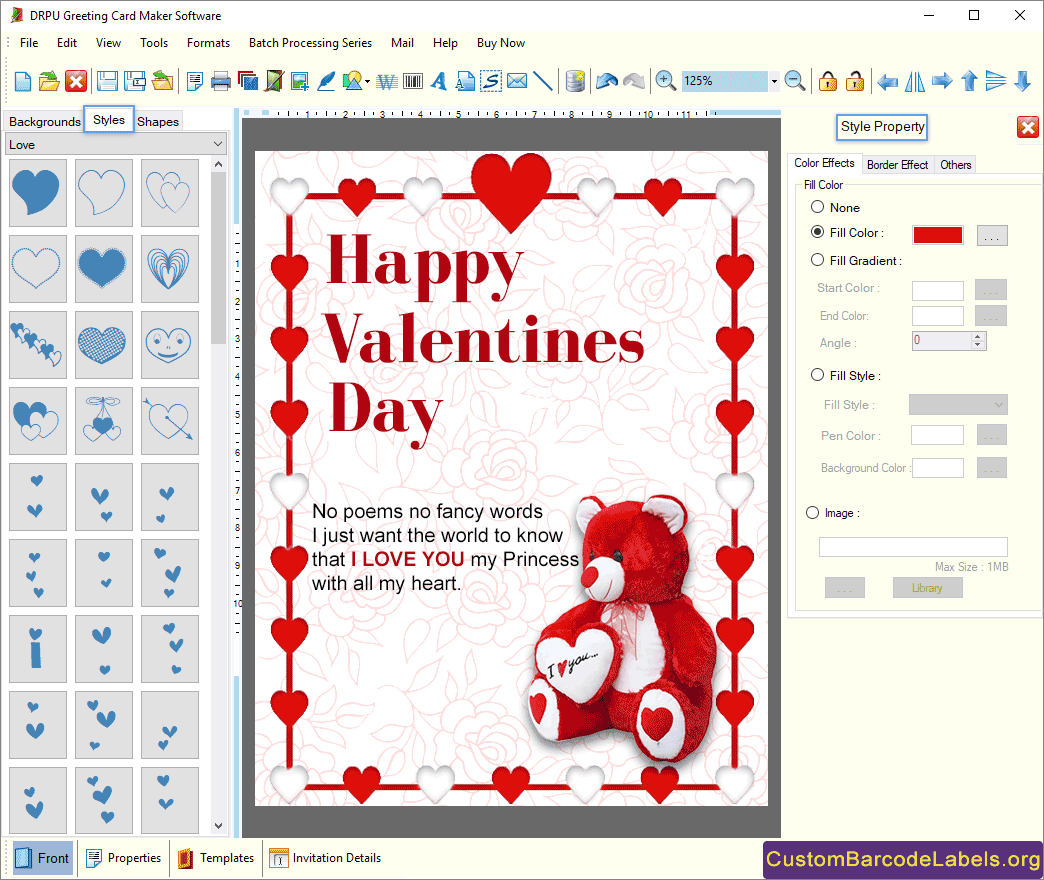 Step 3: Change the Text Properties of the Greeting Card
Add a text to your card by clicking on Text option and change various Text Properties like general, color effects, and others.
General: Change the data source, text alignment, and font. Write your own message or insert predefined event messages in the text field.
Color Effects: Change the text color (solid or gradient color) as well as the text background color (gradient, set transparent, or solid color).
Others: Add a frame around the text by clicking on show frame checkbox and then enter a specific angle at which you want to rotate the text.