Wedding Card Maker Software allows you to create attractive wedding invitation cards to invite your friends, and relatives on the marriage occasion. Other than wedding cards, you can also make some other types of invitation cards including Engagement cards, Response cards, Reception cards, Dinner cards, etc. Application enables you to design a large number of marriage invitation cards, with different names and dates with the help of an advanced batch processing series option. Software facilitates you to save the designed wedding card in WDR file format and also export it in EMF, JPG, GIF, PDF, and many other file formats up to 600 DPI.
Wedding Card Creating Application offers a large set of designing tools like watermark, shapes, signature, cliparts, image, etc, that helps you to give a wonderful and special look to your marriage invitation cards. Software provides a very simple and clear GUI, due to which any beginner can easily create personalized wedding cards without having any technical knowledge or taking any professional support. Program allows you to print the bulk amount of wedding invitation cards through the general as well as card printers by using an advanced print setting option.
Steps to make customized marriage invitation cards using DRPU Wedding Card Designer Software
Step 1: Design a New Wedding Card by using Templates
Select the Start Designing using Templates option to design a wedding invitation card. (You can also select Wizard or Blank Format option).
Select the religion, invitation type, gender type, and visible sides of the card according to your choice.
Choose any one predefined template sample, customized background, or a simple solid color for your invitation card background.
Now, fill up the various invitation card details such as message, groom name, bride name, venue, date, etc, and also change the font settings.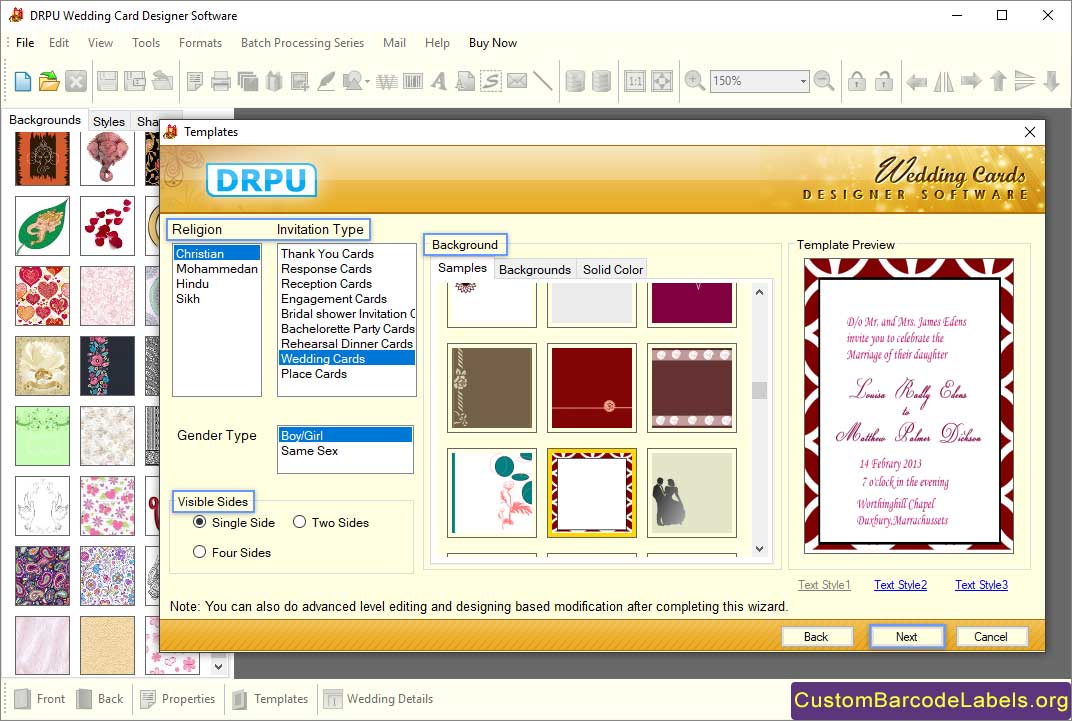 Step 2: Change the Background Property of the Wedding Card
Change the several background properties of your wedding invitation card like background effects, property, and fill background.
Select the Property tab, and specify the label shape (rectangle, CD/DVD, ellipse, or rounded rectangle), and border (color, style, and width).
Select the Fill Background tab, and give a gradient, solid color, style, or image to the marriage invitation card background.
Select the Background Effects tab, and specify the different filters of card background image like gamma, brightness, contrast, and hue.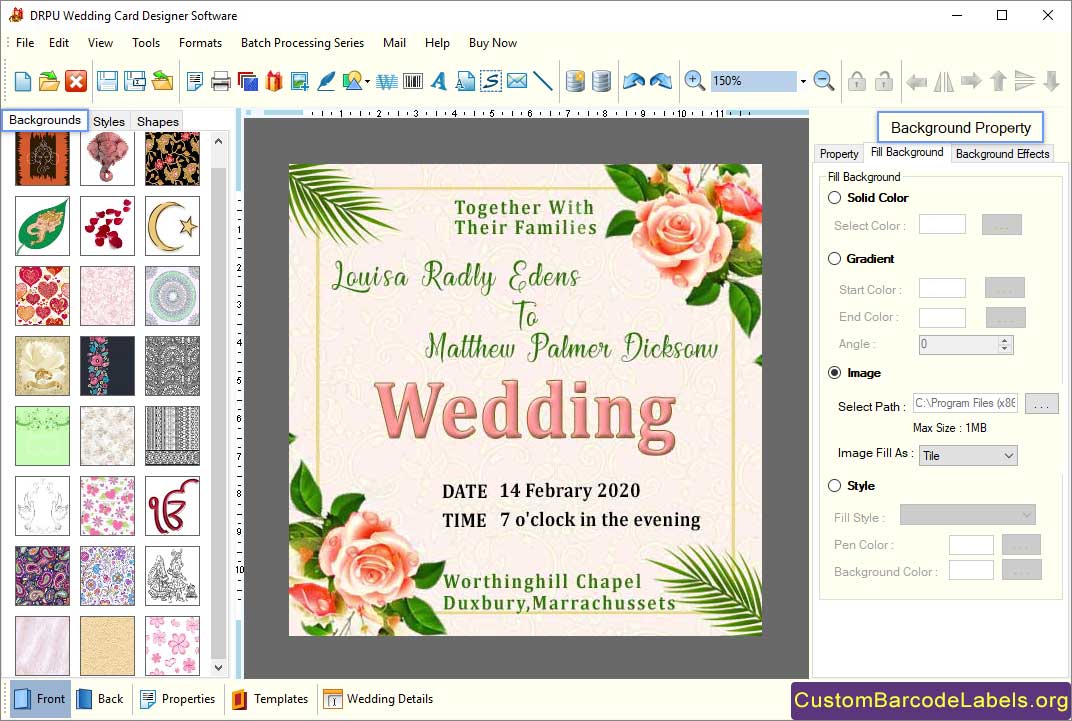 Step 3:Change the WordArt Property of the Marriage Card
Select the WordArt icon to add a customized word to your wedding card and modify the several WordArt properties.
Select the Color Effects tab, and give a solid color, no color, gradient, fill style or image color to the WordArt.
Select the Border Effect tab, and click on show border option to add a border around the WordArt. You can change transparency and rotation.
Select the Others tab, and modify the text of the WordArt. You can also change the font family, size, and style of the text.